The evidence on this page is but a small fraction of the evidence we have captured over the years, and will change and be updated from time to time. What you see here are some pieces that are the team's favorite captures or very memorable ones for one reason or another. A large portion of our evidence has been collected on 35mm film, cassette, microcassette, VHS, or mini-VHS and has not been converted digitally. Some evidence, due to privacy concerns, can not be discussed publicly, and therefore we will not post out of respect for the clients. All claims of this evidence can be considered subjective and the independent opinion of 7 CiTiES PARANORMAL and its members. We as a team and individuals have our beliefs, opinions, and experiences, and make no claim whatsoever other than what can be considered the evidence at "face value". We always leave you, the observer, to be the judge. Remember, parapsychology and paranormal research is not an exact science, and in many cases offers more questions than answers the more deeply you delve. Enjoy.
Audio Evidence
SB7 "Spirit Box" response "Four" in direct response to the question "How many of us are here right now?"
SB7 "Spirit Box" EVP "Who is she?"
Digital recorder EVP "Die!" captured at a private residence.
Digital recorder EVP "Kill 'em!" captured at a very active private residence. This EVP has a "pop" sound often heard before an EVP is captured. This doesn't happen 100% of the time, but we have found that it is most prevalent in locations that are very active, very negative in nature, and/or have a very strong presence. In this particular case, the residence was all of the above.
SB7 "Spirit Box" direct response to the question "How many spirits are in this room?" As you can hear, the investigator asked the question a second time for the entity to verify that it was in fact speaking intelligently to us.
SB7 "Spirit Box" EVP in response to our repeated questions. Prior to this response we had been asking several questions. At one point we even made the comment that "they", the spirits, were not listening. Many seconds later this EVP came over the SB7. We did not include the entire conversation, as it is too large and long a file.
SB7 "Spirit Box" EVP "Jackson" was captured after repeated attempts to get a name at a private residence. As does often happen, this response came several moments after we repeatedly asked for a name. After later research into the location and name, it was discovered that a deceased neighbor, whom frequented this residence, first name was Jackson. He had passed away many years before and had an attachment to the residence.
This digital recorder EVP was captured at Saint Albans Sanitorium in Radford, Virginia. It was captured during the day (about 3 to 4 in the afternoon) as we were walking through the main building taking daytime photographs for reference before our second night of investigation. We were casually exploring the 2nd floor conversing when a disembodied voice comes through in the background apparently asking us to look behind. This is one of many Class A EVPs captured on this visit during the day. Listen at 12 seconds in.
This EVP was captured at a private residence in Gloucester, Virginia. We were not addressing the entity, however we were talking about the case and possible explanations as to what was going on or what might have happened. The entity comes through in an EVP we believe is independent of the SB7 and not actually coming through the device, but "over" it.
This chain of events is quite interesting and comical. As the investigators and guests are entering the attic, one of them says "It's dusty in here.", to which there is a response immediately of "YES!" (about 1.5s in). The investigator then turns on the SB7 and asks "Are you in this room?", to which there is a response "No." (about 37s in) The investigator then asks "If you're not in here, how can you answer me "no"?", to which there is a response "I'm not stupid!" (about 48s in). You can hear a 2nd investigator using a real time EVP audio amplification device telling the 1st investigator what the entity is saying as he can hear it more clearly.
Photo Evidence
This photo was taken at the Exchange Hotel in Gordonsville, Va. Taking a photo into a mirror is sometimes revealing. Do you see what appears to be a woman with below shoulder length dark hair, in a light colored sweater, a long dark skirt, and high boots looking toward the mirror and thus the camera? We attempted to recreate this image in several more photographs (a couple of which are shown below), but were unsuccessful. Is this the brain trying to make sense of an obscure image, or is it someone from long ago watching our investigator take a picture of the mirror, unaware that she can be seen. You be the judge.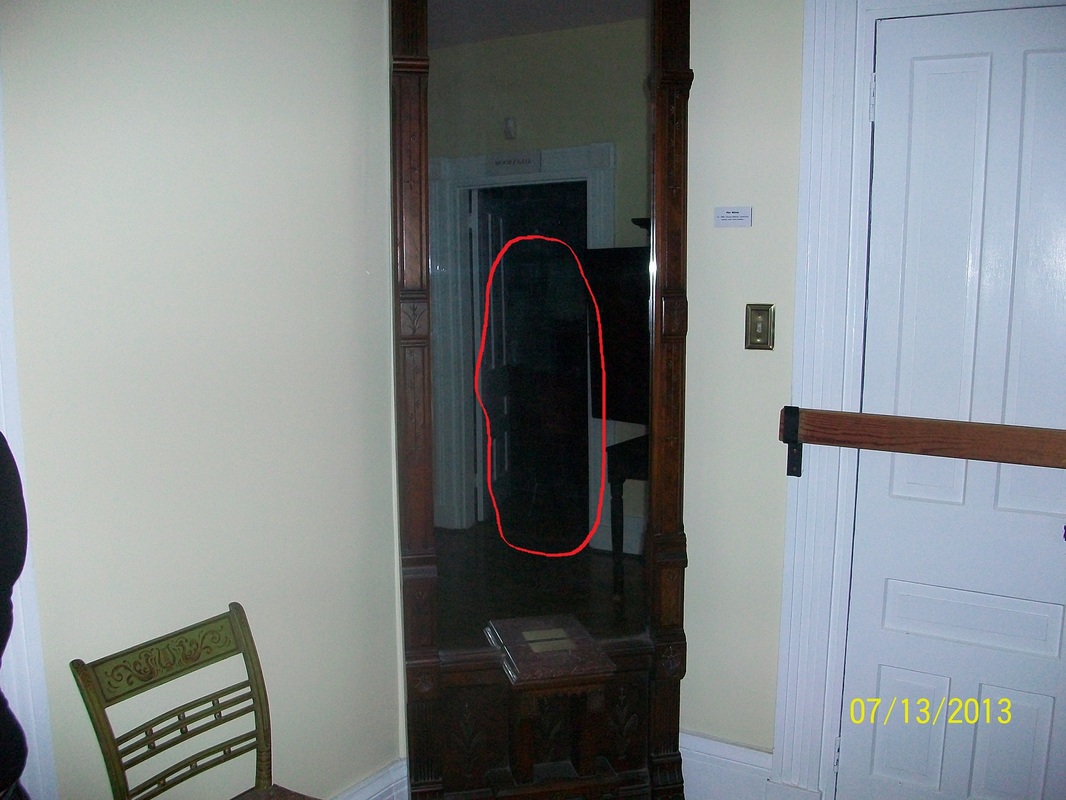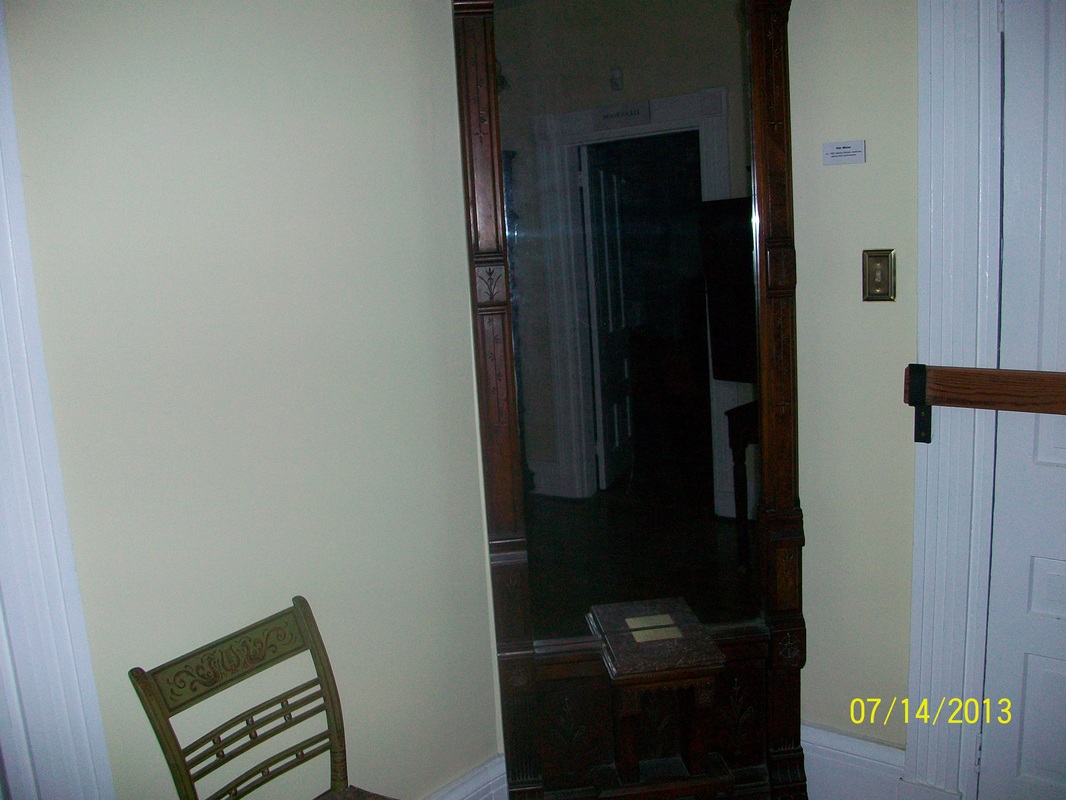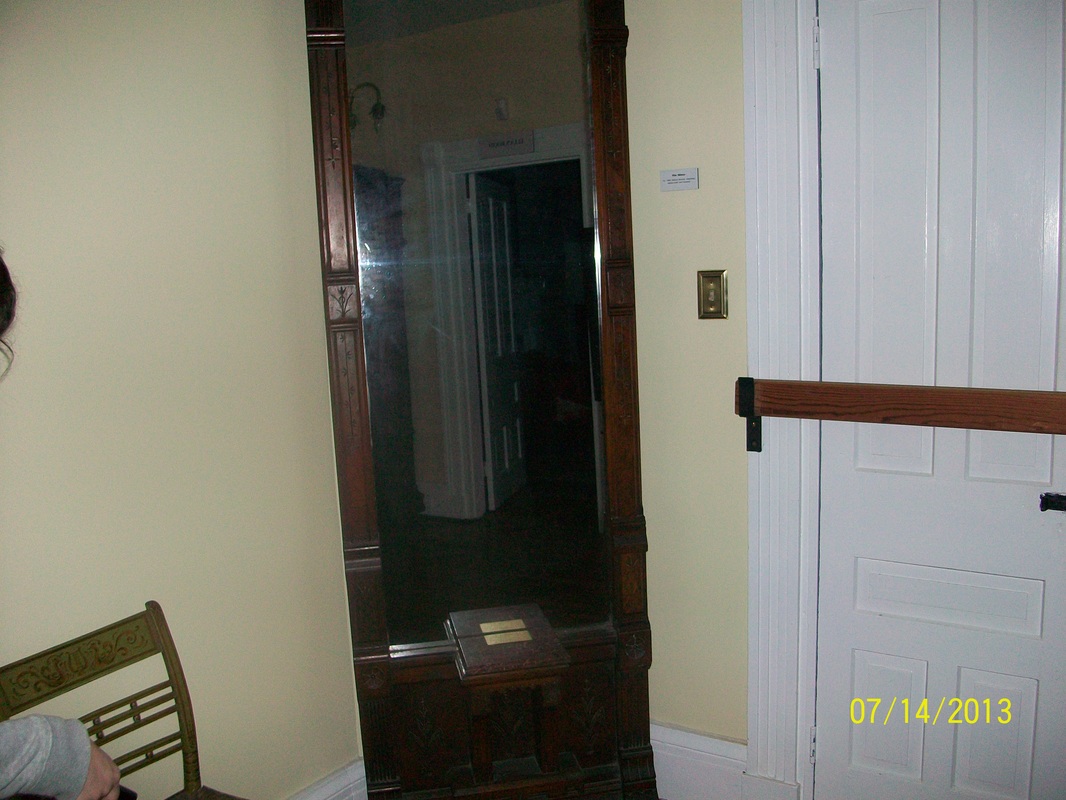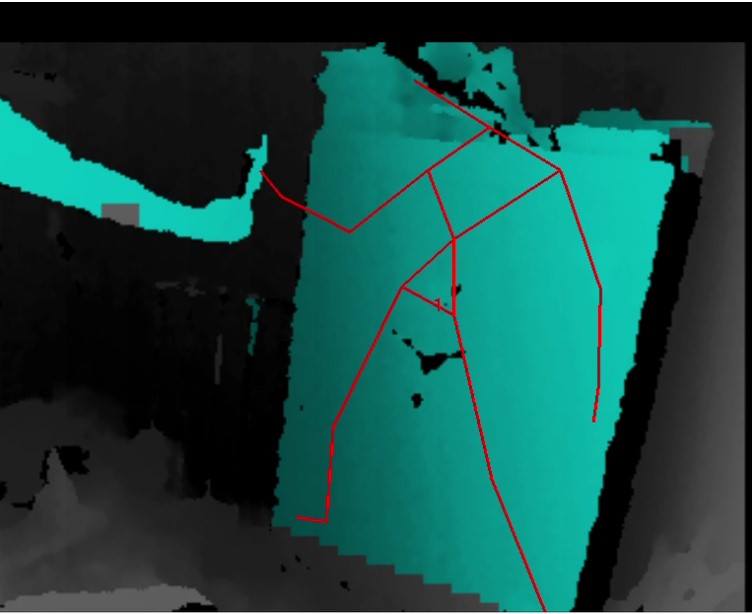 The above image is from our SLS camera or Structured Light Sensor camera. Some may call it a Kinect camera, as it uses the same technology. This device illuminates 1000's of infrared dots to allow the camera to detect depth and detail, sort of like a sonar. The software can recognize people by distinguishing body parts, joints and movements. Thus creating a stick figure as seen above. Sometimes it "maps" figures that are unseen by the naked eye. Here the investigator is holding a crucifix in his hand (coming in from the left). It appears the unseen entity on the right is trying to take it from his hand. This interaction occurred for about 45 minutes on the investigation. The entity at one point could also be seen reaching over to a mantle to turn on and off flashlights that were there to communicate with it. We tried for the entire 45 minutes to change angle and direction on the entity to debunk what was being "mapped", but the entity moved from the spot it is now to other spots within several feet. It would also crouch down and move over to turn on and off the flashlights on command. This is from a client's home in Hampton.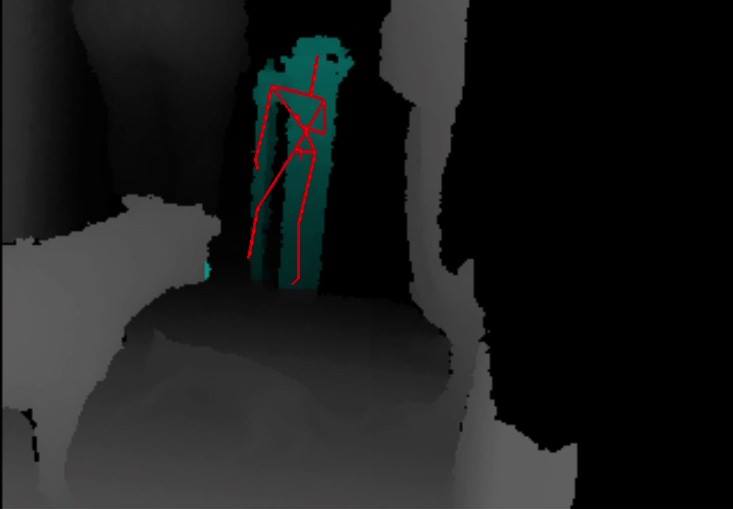 The above image was also taken with the SLS camera. This was taken at a client's home in Newport News. As you can see on the left, the family dog also was staring as if he could see the image as well. The investigators could not. The animals in the house frequently reacted to unseen entities.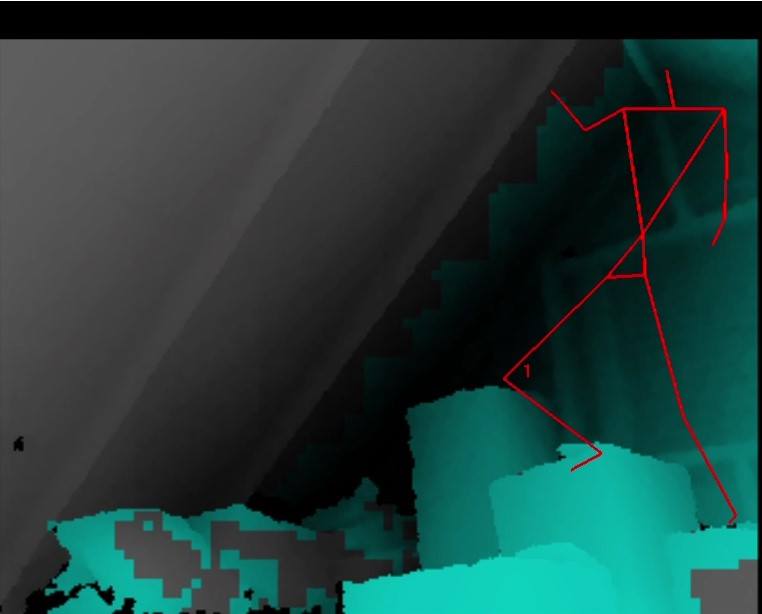 This image is from a client's home in Newport News. The investigators are in the attic, where the homeowners have found several old artifacts from over the years. They described hearing voices from in the attic, as well as footsteps. The investigators caught EVP of a young man and a little boy over four separate investigations there. This could presumably be one of those entities. You can see the entity poised with feet on two different levels, and appear to be holding on to a rafter with his right arm over his head. The house was built in the early 1900s, and is very active.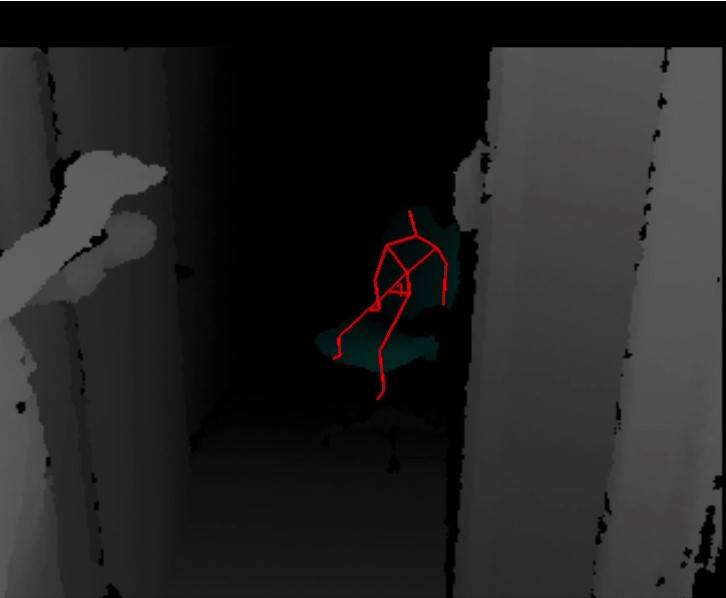 This image, caught on the SLS camera, was captured in the infamous Building 5 at Fort Monroe. It shows what appears to be an entity sitting in one of the many office chairs left behind when the building was put out of commission in 2011. An investigator "sensed" something in the room, so the camera was aimed in that direction. The entity appears to be just lounging around the office. It also appears to be very small in stature. Lights in the building would go on and off by themselves, and several Class A EVPs were captured during the investigation. Some EVPs called out "First Corps" and other military terms. Some captured were even calling the investigators out by name. Building 5 was built in 1897 as a barracks for the soldiers. In 1940, it was turned into office space.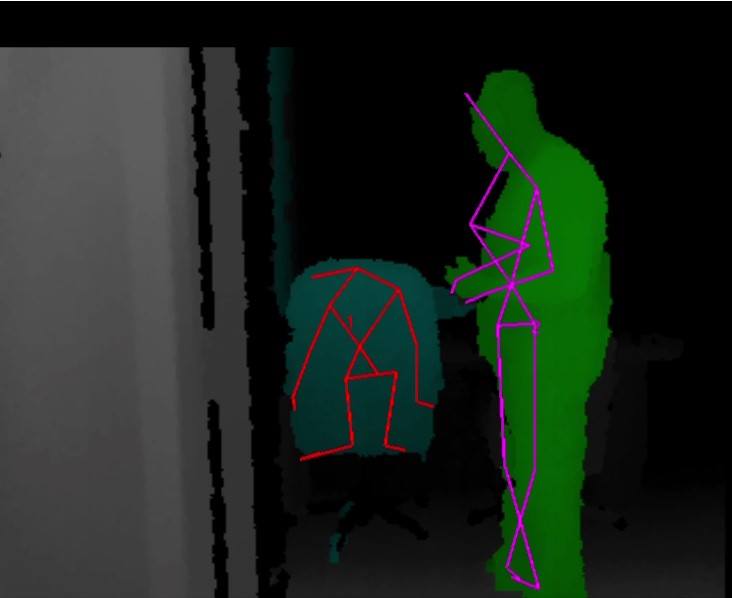 Here, another SLS image. The "mapped" image to the left was also captured in Building 5 on Fort Monroe. The image to the right is an investigator. Sometimes the SLS camera does tend to map other objects as humanoid. Objects such as columns, doors, file cabinets, water coolers, refrigerators, and even chairs can be "mapped" as a figure. With experimentation and techniques learned over time, you can most times debunk some "mapped" human figures. This one is presumed to be a "mapping" of a chair, and not definitively of an entity or humanoid. What gives this away is the fact that the head and feet don't protrude past the physical area of the chair, unlike the image above where the head and feet are not confined to that surface area. Is this a true entity or not? You decide.